About me
---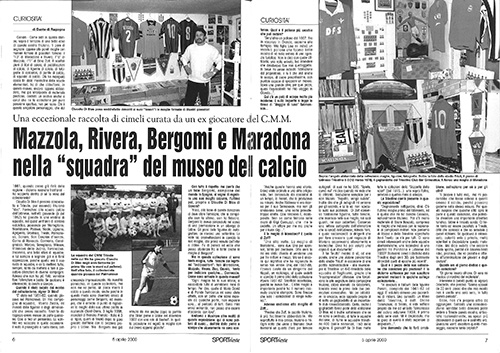 Born in 1952 in Palmanova (Italy) Claudio Di Blas has been a soccer player in amateur and semi pro categories until early 90's in 22 different teams, among which Udinese, in different Italian regions.
In 1981, inspired by Valerio Zorzin, a friend of him and a goalkeeper, Claudio dusted off his old stickers collections and started his collector activity.
His collection grown day by day with other items obtained by trades or meetings with soccer players during their team training camps: acquiring their esteem and friendship, most of them gave him soccer t-shirts and shoes marked with authentic autographs.
Di Blas also wanted to involve other amateurs in his passion and partecipate to soccer-related exhibitions dedicated to Genoa, Inter and Juventus.
He has also done many personal exhibitions: the first one was "Storia dell'Udinese Calcio" (History of Udinese Calcio) inside the 17th philatelic exhibition "Friûlphila sport '95" (Mortegliano – UD, 1995) and the second one was "L'Udinese" at "Arti plastiche" palace (Udine, 1996) for the first 100 years of this soccer team.
In 1997 has setted up "La Sampdoria di Mancini" at Là di Moret Hotel (Udine); in 1998 "La Juventus" at Astoria Hotel (Udine) and lastly in 1999, at the Green Hotel in Magnano in Riviera (Udine) "La Nazionale Italiana", during the football match Italy – Switzerland played in Udine (the italian national football coach was Dino Zoff).
In 2006 joined the cultural association "Associazione Culturale Liciniana di Martignacco" with "CalcioGiocoPassioneArte" (literally: Football,Game,Passion, Art).